Oracle Corp. today announced a major update to its Oracle Enterprise Manager tool that delivers what it called "major breakthroughs" in automating the monitoring and management of Oracle environments.
Introducing the new version in a blog post, Mughees Minhas, Vice President of Product Management for Enterprise and Cloud Management at Oracle, explained that Oracle Enterprise Manager is the flagship management product of the enterprise for the entire Oracle stack and that thousands of customers use it to ensure their most critical business applications run smoothly.
The new version, called Oracle Enterprise Manager 13c Release 5, was designed based on feedback Oracle has received from many of its customers about the top challenges they face in managing their Oracle stacks. Minhas explained that many companies have been forced to manage their on-premises environments differently from their cloud environments. This has resulted in both inefficient and error-prone operations and data silos, he said.
"Also, it's hard to run at cloud speed if you have to do a lot of manual operations," Minhas wrote. "The more you can automate your operations, the better the quality of service you can provide. Finally, customers are constantly streamlining IT tools and information sharing. There is a need to facilitate coexistence, interoperability and integration between different classes of tools. »
These are the challenges Oracle has set itself to address with today's release, and the company has developed a number of new features that it says will make customers' lives much easier than before.
Oracle Enterprise Manager's new features focus on three specific areas, Minhas explained: hybrid cloud management, operations automation, and scalability.
In a briefing with SiliconANGLE, Minhas explained that hybrid cloud management has become a priority for the company because the majority of its customers now operate hybrid computing environments or what the company calls mixed computing environments.
"They're going to stay hybrid for a long, long time," he added. "Ultimately, companies will use cloud management tools to manage [both] on-premises and cloud operations.
Minhas said Oracle Enterprise Manager was the logical tool Oracle should use to manage cloud management. While the product started as a simple Oracle database manager, he explained that it has since evolved to cover the company's entire product portfolio. "Customers use it to manage their Oracle stack from operating system to virtualization to database, mid-tier and applications," he said.
With today's release, however, customers can use it to manage more than just their Oracle stacks, Minhas said. He explained in the blog post that Oracle Enterprise Manager allows users to manage targets running anywhere, both in on-premises data centers and in the cloud.
Existing best practices, scripts, and tasks can be applied to cloud resources the same way they are applied to on-premises resources. And specifically for Oracle Cloud Infrastructure resources, he added, Enterprise Manager now understands cloud-native application programming interfaces for management operations and leverages them to provide a more seamless experience in these environments.
One of the key new hybrid cloud management features is the DB Migration Workbench, which helps move on-premises databases, Oracle Cloud Infrastructure and other clouds, Minhas wrote. And after the migration, it uses the SQL Performance Analyzer feature to ensure that the workload on the migrated platform is working properly.
"We really try to facilitate [customers] transition to the cloud," Minhas told SiliconANGLE. "The things we manage could be Oracle Cloud or AWS or whatever. We see ourselves as a multicloud product, meaning any of the major cloud providers.
On the operations automation side, Minhas wrote that Oracle has added a number of new features that aim to provide better operations automation. They include a new Intelligent Event Compression capability that automatically consolidates separate but related events into a single incident to help teams better triage, respond to, and manage all incidents that occur. Then, to speed up incident resolution, Oracle has come up with something called Dynamic Runbooks that encapsulates subject matter expertise to diagnose and resolve all issues as actionable runbook procedures.
"In this release, we're enabling these teams to create these runbook procedures directly in EM," Minhas wrote. "This allows teams to encapsulate in EM their operational expertise in the diagnosis and resolution of incidents."
For performance management, the automatic workload analysis feature allows Oracle Enterprise Manager to continuously compare the current database performance with the benchmark workload and highlight any deviation from this may affect its execution. The new EM Warehouse feature continuously extracts data from Oracle Enterprise Manager and places it in a database so that it can be analyzed separately, without impacting its monitoring and management operations.
"On this data lake, you can perform performance trending, you can perform capacity planning, and any other kind of analysis using whatever tool you like," Minhas wrote.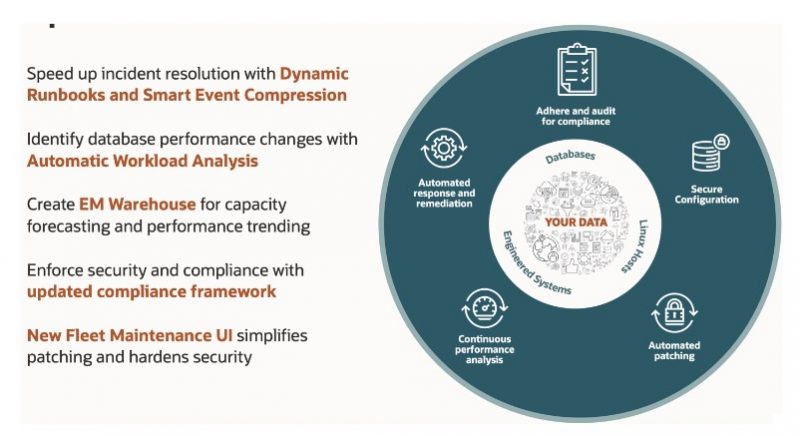 Regarding extensibility improvements, Oracle has made it possible to use REST APIs to perform management operations in Enterprise Manager, so the service can now be invoked from various third-party automation tools, including Ansible, Chef, Puppet, and Terraform. And for companies that may have multiple Oracle Enterprise Manager deployments to support different parts of their business, the EM Federation Console acts as a single pane of glass for monitoring and incident management across those different Enterprise Manager sites.
Minhas said Enterprise Manager also has a revamped dashboard that includes the native ability to create user-defined dashboards using out-of-the-box widgets for data visualization. Finally, the new version comes with more flexible deployment options with higher availability and newly improved self-monitoring and diagnostic tools.
Constellation Research Inc. analyst Holger Mueller, who was briefed on the new release, told SiliconANGLE that everything seems to be falling into place for Oracle with its standalone stack, cloud infrastructure, and software offerings as service.
"With Oracle Enterprise Manager 13C Release 5, the company adds key observability capabilities not only for its traditional on-premises and cloud platforms, but also for competitor clouds," Mueller said. "It's important for teams who need to manage, operate and secure next-generation application platforms. The single pane of glass with consistent analysis and management makes Oracle Enterprise Manager a strong contender.
Oracle said customers can expect new features to be "delivered on a monthly cadence," rolling out over the next four to five months.
With reporting by Robert Hof
Picture: Oracle
---
Show your support for our mission by joining our Cube Club and our Cube Event community of experts. Join the community that includes Amazon Web Services and Amazon.com CEO Andy Jassy, ​​Dell Technologies Founder and CEO Michael Dell, Intel CEO Pat Gelsinger, and many other luminaries and experts.